This is rustic, hearty and delicious and very healthy.  Here it's served with brown basmati and red rice. If you prefer your vegetables not so crunchy and to blend in more, simply chop them more finely.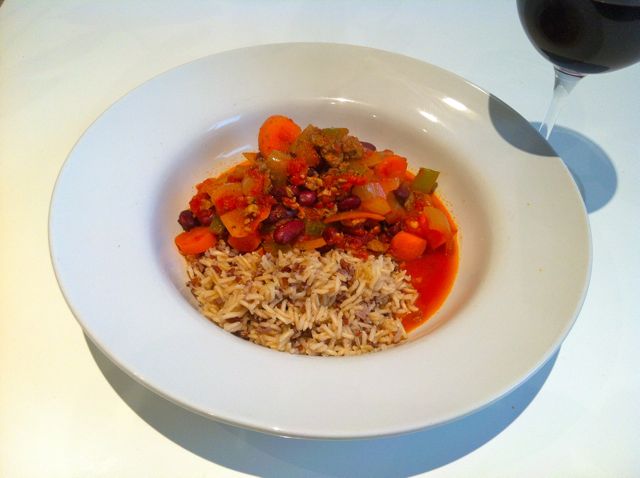 Ingredients serves 2 (very generously or leftovers are good with pasta or topped with mashed potatoes)
one large onion
2 medium carrots
2 sticks of celery
2 teaspoons of dried crushed chillies (if you like it spicy!)
olive oil
salt and pepper
2 cloves of garlic
a tablespoon of dark soy sauce
a tablespoon of tomato puree
180g (6 and 1/2 ounces) of chilled soya mince
a teaspoon of smoked paprika
a 400g (14 ounces) can of tomatoes
a 400g (14 ounces) can of kidney beans (net weight 240g or 8 and 1/2 ounces)
Method
Chop the onion and splash some oil on the bottom of a large lidded saucepan
Stir in the onion, sprinkle with salt and sweat on a low heat with the lid on
In the meantime scrub and cut the carrots in approximately 1cm or 1/2 inch rounds (chop more finely if you prefer softer vegetables) and add these
Slice the celery sticks down the middle and chop into 1cm or 1/2 inch pieces and stir into the carrots and onions
Finely chop the 2 garlic cloves and add these
Add 2 teaspoons (or less!) of dried chillies, a good grind of black pepper and sweat the whole lot for a further 15 minutes
Add the tablespoon of soy sauce and a good squirt (about a tablespoon) of tomato puree and a teaspoon of paprika, stir
Add 100ml (3 and a 1/2 fluid ounces) of water, bring to the boil and simmer rapidly with the lid off for 15 minutes to soften the vegetables and reduce
Stir in the soya mince, drained kidney beans and the can of tomatoes and simmer on a low heat while the rice is cooking.  Stir occasionally
Measure 200ml or 7 fluid ounces of brown basmati with a little red rice (optional), rinse and put in a small lidded pan with double the volume of cold water and a pinch of salt.  Bring to the boil, reduce heat and simmer with the lid on for 20 minutes until the water has absorbed.
Serve with the bubbling chili