Simple and delicious.  The potatoes and Brussels sprouts are the star of the show.  The sprouts are roasted and you may never boil one again! Use delicious roasting potatoes (such as the floury Maris Piper). Relax, have fun, have delicious food and dont have the carcass of a fellow creature, (a sentient creature who once had blood coursing through his veins just like you and I!) burning all day in the oven..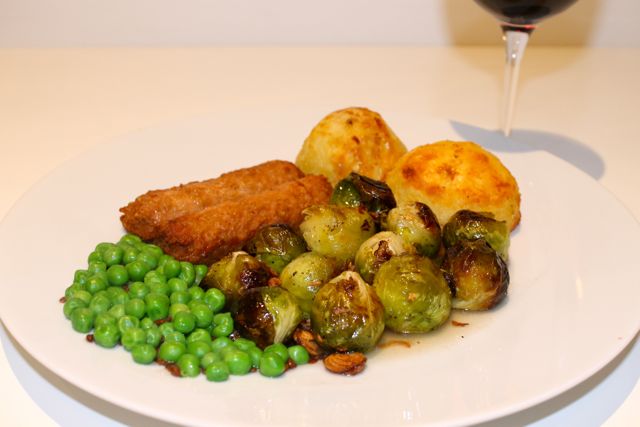 Ingredients per person (remember to multiply by the number of your non flesh eating guests)
2 of your favourite veggie sausages
one or two large peeled floury potatoes, halved
12 or so Brussels sprouts washed and trimmed
3 cloves of garlic unpeeled
half a tablespoon of flax seeds (linseeds)
a teaspoon of cornflour
a tablespoon of Bisto, or dark vegetable stock powder for the gravy
rice bran oil, groundnut oil (or other high burning point oil)
salt and pepper
Method
Preheat the oven to 200C (400F, gas mark 6) and place a roasting tin with some oil in it for the potatoes inside (you will need another smaller one for the sprouts)
Place the potatoes in a pan of salted cold water and bring to the boil, reduce the heat and simmer for 10 minutes
After 10 minutes drain them in a wire sieve over another pan retaining the water.  Return them for a few seconds to the empty pan to dry them and then put them back in the sieve and shake vigorously so that the sieve roughens the surface
Remove the roasting tin with the hot oil from the oven and roll the potatoes in them so they are coated.  Roast for 40 minutes, turning half way through and adding the sausages to the tray when 15 minutes remain (or follow package instructions)
Put the sprouts in, rolled in some oil and scattered with the whole garlic cloves (these make a lovely sweet paste when roasted) and seasoned with salt and pepper. Roast the sprouts for about 30 minutes until slightly caramelised
For the gravy lightly crush the linseeds in a pestle and mortar and add these to the potato water (if there is too much drain some off).  Add the tablespoon of Bisto or dark stock bullion and bring to the boil.  Add the peas 5 minutes before serving and dissolve the cornflour in a little cold water before adding this at the end and stirring through to thicken (add more if necessary depending on the amount of gravy being served)
Merry Cruelty Free Christmas!