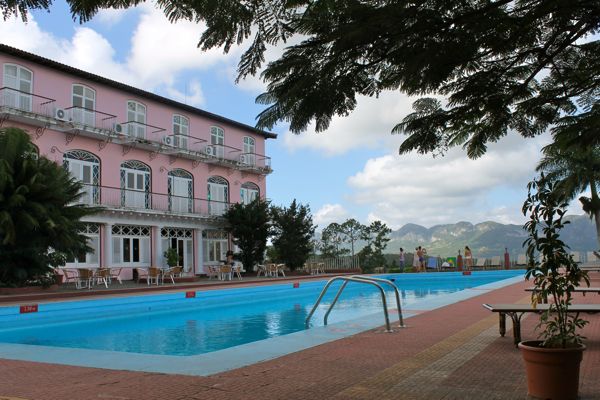 I first woke up to the almost forgotten sound of a cock crowing and a little later to the sounds of horses being led close by.  When I opened the curtains the views of the mountains and the valley were breathtaking.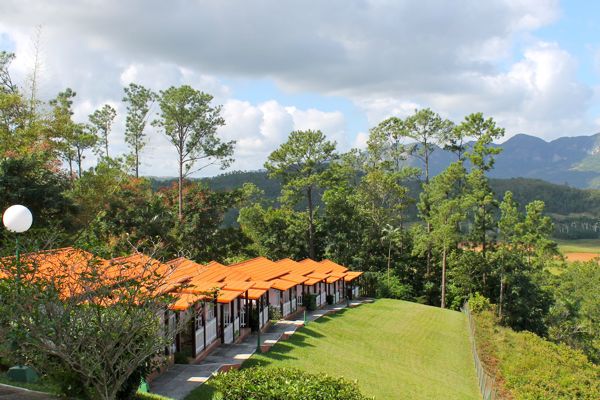 All that had been available when I booked had been a junior suite and I seemed to have landed the best room in the house or rather the best room leading away from the house.  It was simple and clean with huge bed and a sofa and a TV (with several Chinese programs since a cultural sharing initiative began between the two countries in 2008) and had the wonderful advantage of being the last one in a row of little chalets, the furthest from the main hotel building.  In front of my veranda, decked with the two obligatory rocking chairs a well kept lawn sloped down to the trees leading to the valley.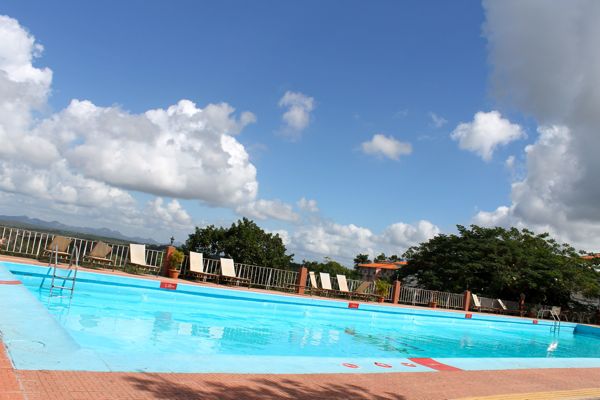 When I eventually went up for breakfast there was no sign of any other guests in this hotel that was supposed to be full.  I later found out that there was a Saga Holidays group and the old folk had gotten up much earlier to go on one of their excursions.  The breezy dining room above the lobby was empty apart from a few staff members wandering in and out and tiny birds swooping in for crumbs left on the uncleared tables.  All around doors opened onto balconies and the panoramic views beyond.  Breakfast at the wonderfully pink Hotel Los Jazmines was fine, chopped guava and papaya and the same fruits juiced along with a selection of others, bread cheese, tomatoes and salads and cakes.  There was a bored looking chef standing by an omelette station and various hot dishes for carnivores.  (A word of caution for vegetarians, all the bean dishes I saw at breakfast in Cuba had some sort of meat in them).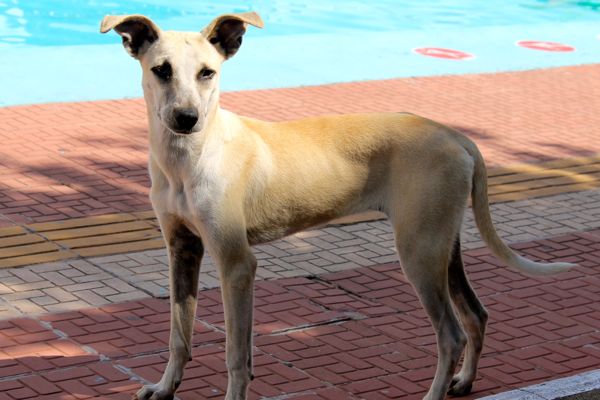 After breakfast I went up to the hilltop-perched pool which was peaceful for most of the time apart from, as I had been forewarned by Trip Advisor, the regular coach strip stops when tourists would descend of the area to take photos of the spectacular views and drink pina coladas or mojitos from the bar that flanked it.  Sometimes annoying, these noisy visitors swooping in like the sparrows at breakfast would occasionally provide an interesting distraction.