Delicious, vibrant and healthy.  Broccoli is a good source of calcium and along with the sugar snap peas make this a nutrient packed meal.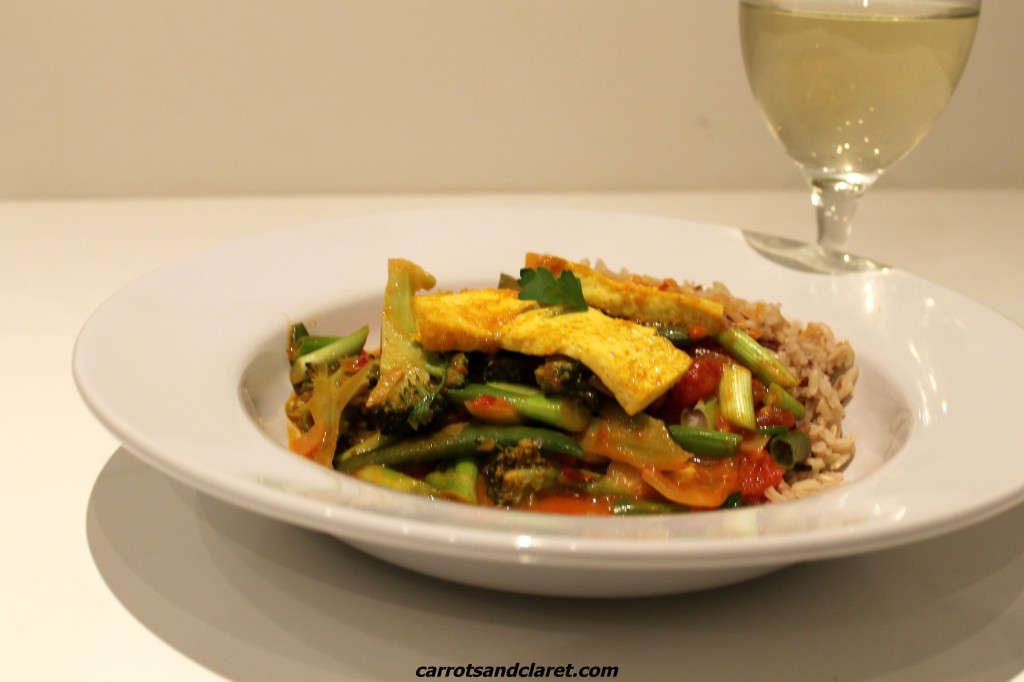 Ingredients for 2
For the sauce
an onion, diced
vegetable oil
a one inch (2 and a 1/2cm) piece of ginger, chopped
2 cloves of garlic, chopped
2 red chillies, chopped
2 teaspoons of good Thai basil and galangal paste
half a teaspoon of turmeric
salt and pepper
a good squirt (or a tablespoon) of tomato puree
a 400ml (14 ounce) can of coconut milk
a 400g (14 ounce) can of chopped tomatoes
2 teaspoons of agave nectar
200g (7 ounces) broccoli, chopped into bite sized florets
150g (5 and a 1/2 ounces) sugar snap peas
6 spring onions, washed, trimmed and sliced
For the tofu
200g (7 ounces) firm tofu, drained, patted dry and cut into strips (see photo)
half a teaspoon of turmeric
a tablespoon of cornflour
vegetable oil
rice to serve
Method
If serving with brown rice put that on to cook first (for tips on cooking brown rice click here)
Add a splash of oil to a large saucepan and sweat the chopped onion with a little salt for ten minutes or so until softened but not browned
Add the ginger, chillies and garlic, stir and fry for another three minutes
Add black pepper, tumeric and the two teaspoons of Thai paste and stir
Add a good squirt (about a tablespoon) of tomato puree and stir
Add the coconut milk, tomatoes and agave nectar and stir well.  Let the mixture bubble away until reduced by up to half while the rice cooks.
Add the sliced spring onions just before serving, stir in.
In the meantime blanch the broccoli and sugar snaps in salted boiling water for three minutes before draining and immersing in iced water so they retain their vibrant green colour.
Mix the turmeric and cornflour together with a pinch of salt in a bowl.  Coat the tofu strips in the mixture and fry for about five minutes on each side, until golden.
Serve the sauce with the vegetables with the tofu strips on top (and alongside the rice)