titbits

Tibits in London's West End has a lovely location.  Quiet, leafy, pedestrian Heddon Street is miles away (but not literally) from Piccadilly Circus and Oxford Street.  The concept was originally launched in Switzerland by the Freis and the Hiltls, (owners of the oldest vegetarian restaurant in the world Hiltl).  Titbits London opened in 2008, it's an all-day vegetarian (and mostly vegan) restaurant with a big buffet at its centre.  The food is sold by weight.
We booked a table for seven o clock and the place was already buzzing with tourists and after work crowds.  It was refreshing to see so many people tucking into vegetarian cuisine.  We visited during a warm spell and the huge windows opened onto the leafy courtyard.  First off we settled down with a bottle of house red, a decent Primitivo and the concept was explained to us.  In no time we were up helping ourselves to the huge array of hot and cold dishes, salads and dressings.  The food was delicious, stand outs were the dhal, a delicious concoction of red lentils, tomatoes and carrots and the thai curry, a scrumptious vivid red sambal added heat.  There were lots of different dishes with bowls of tofu for extra protein and regular and gluten free bread rolls.  The tiramisu had a deliciously strong coffee taste.
If there was one thing I could change about the experience would be that it was an all you can eat buffet rather than a weigh and pay as you go procedure.  We got around this by piling our plates high with a little of everything, and looking around, everyone else seemed to have the same idea.  We will definitely be back soon!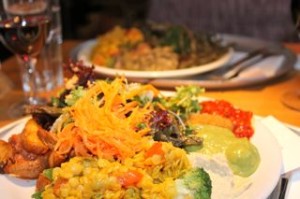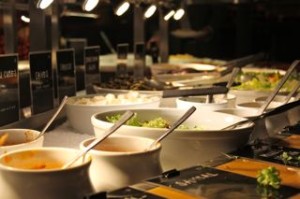 12-14 Heddon Street
off Regent Street
London W1B 4DA
Monday to Wednesday
9am – 10.30pm
Thursday to Saturday
9am – midnight
Sunday
11.30am – 10.30pm
~
222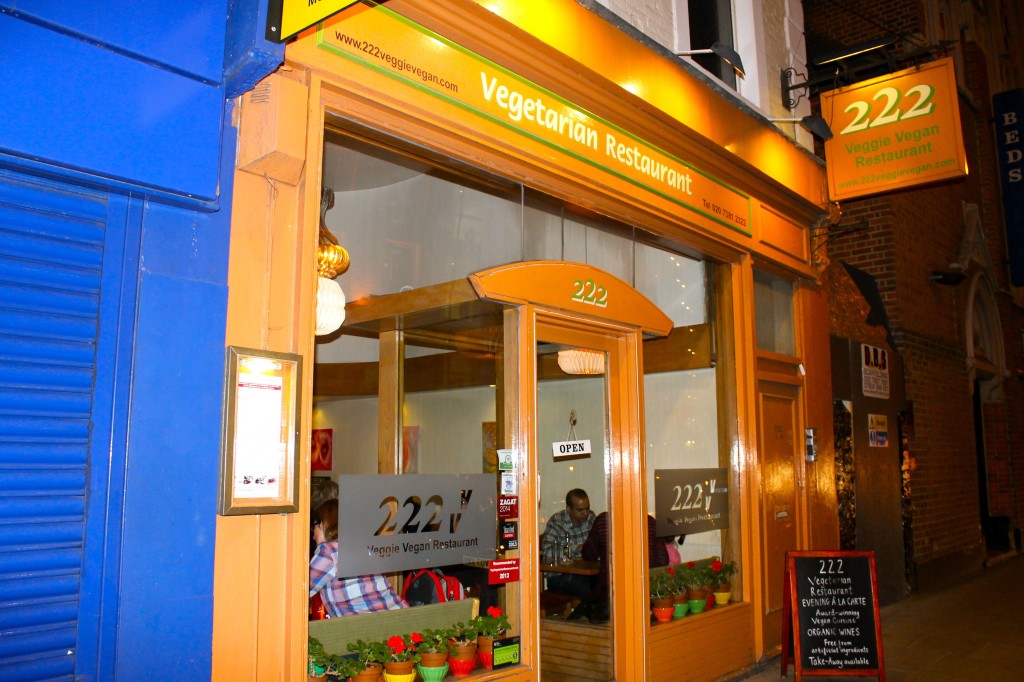 222 Veggie Vegan opened ten years ago.  I used to go there with my only vegetarian boyfriend.  Back then it was quiet and we often chatted with the lovely chef/owner Ben.  I was worried that a vegetarian restaurant half way along the unlovely North End Road in West Kensington wouldnt last long.  Ben told us back then that the owner of a nearby restaurant with a meat heavy menu asked him what he thought he was doing opening a vegetarian restaurant.  The other place has long since closed.  Now one of my oldest friends has fallen in love with a vegan activist and is trying hard to be vegan, so happily 222 has become a regular haunt for me again.
On a Saturday night in March the little place was packed, my friend was late as usual and we lingered over wine and saw tables turned.  The food was as wholesome and delicious as always.  We started with bean and tofu pancakes  and 'Lentil Peak', baked tomatoes stuffed with green lentils.  Both were well spiced, hearty and delicious.  For the main course I had 'Ben's special', a stir fry with brown rice (or wheat-free noodles) with a mixture of seitan and marinated tofu.  I asked for it to be spicy and it was delicious, the vegetables were perfectly crisp.  My friend had the special of (savoury) carrot cake which we'd sampled and loved on a previous visit when she had ordered some in a takeaway box for the vegan.  Today is was slightly less successful served with potatoes, both were delicious but a little heavy together.  There was no chance of us trying the puddings today.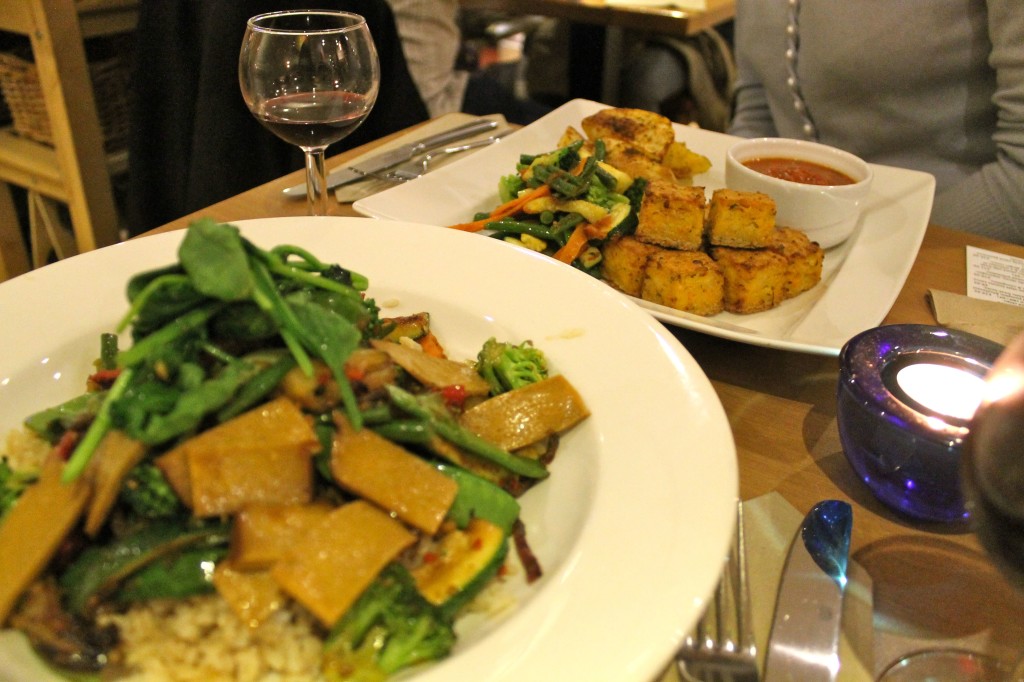 But we'll be back soon, we want to try everthing on the menu!
222 Veggie Vegan 222 North End Road, West Kensington W14 9NU 020 7381 2322
~
Eight Over Eight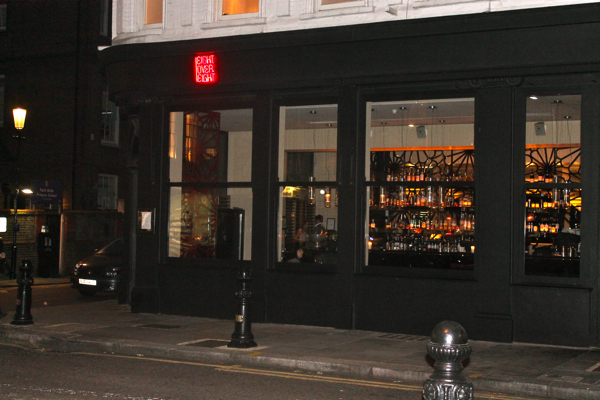 I love this place.  I came here when it first opened, but that was ten years ago and I cant think why I left it so long to come back.
My dining partner wanted to come early, so I booked a table for six o clock, which is when they open for dinner.  She was late.  I whiled away the time in the small stylish bar and enjoyed the wine and the music ( Brigitte Bardot and Serge Gainsbourg singing Bonnie and Clyde, as an illustration).
When the latecomer finally arrived we were seated at a very comfortable booth, big enough for four.  The restaurant is dark, decadent and comfortable with the soundtrack supplied by the bar.
Perhaps by way of appeasement my friend decided to be vegetarian for the night.  We started with perfect edamame with soy and mirin and delicious tempura of sweet potato and courgette with lemon ponzu.  Tempura with zesty breadcrumbs was a novel twist.
For the main course we were intrigued enough to have a bowl of green fried brown rice each and weren't disappointed with the crisp grains.  This accompanied agedashi tofu, fried silken tofu in a dark broth with shiitake mushrooms and asparagus.  Delicious for me but my friend wasnt a fan.  We also shared a wonderful fragrant aubergine and lychee green curry.
No time for dessert, our early booking meant they were turning the table and it was eight o clock before we knew it.  Next time I'll have the chocolate fondant with green tea ice cream.
Eight Over Eight 392 Kings Road, SW3 5UZ Tel 0207 349 9934
~
Saf, Kensington Wholefoods Market, London W8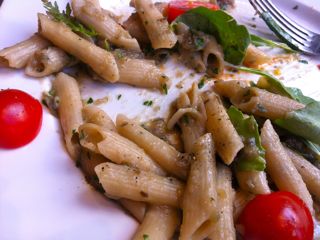 This was my fourth visit to Saf so the food cant be all that bad.  On this, perhaps my final visit to the open plan corner of upstairs at the Wholefoods Market in Kensington high street I dined alone after an afternoon's shopping, having run out of carnivorous friends who were willing to try pretty hardcore vegan delights.
I've had soggy (wheat free) pasta at this yummy mummy canteen before but on the whole the dishes I've tried have been innovative, healthy and delicious and being vegetarian it's wonderful to be able to choose from a whole menu (rather than 'veggie options').  The restaurant area, and it can hardly be called a dining room being separated by a low partition wall from the seating for all the food stands is noisy if there are children screaming and draughty by the windows.  However it's the service that has and always let this place down.
After being shown to my table I waited for ten minutes without being offered the menu or a drink and walked up to the service station to request both.  After this my server changed and there was some improvement.  The disinterested first waiter was more at home discussing chicken with some reluctant for-one-night only-vegans at a neighbouring table, obviously having not himself bought into the place's ethos.
I had snapped up a Groupon offer for four courses with a glass of champagne for £25.  To start from the set menu of signature 'cheese' board or mezze platter I chose the latter (not being a fan of chalky vegan cheese).  The platter was large for the first of four courses but was deceptively light.  Delicious dolmades and hummus and avocado dips accompanied by interesting crisp wheat-free bread and very fresh salad leaves zinging with a raw garlic dressing.
The next course took thirty minutes to arrive during which time the new waiter wandered over to ask if I had already had it.  The much anticipated Sichuan dumplings finally arrived.  They were delicate and delicious pot stickers in a dark rich soy based sauce.
There are a lot of raw options available and a friend on a previous visit had bemoaned that her Pad Thai was 'like eating salad'.  But I ordered the Tom Yam Phak, a tasty hot and spicy bowl of (cooked) noodles with tofu, this being the freezing start to December.
For the final course I eschewed the virtuous and bland sounding poached pear and went for the raw carrot cake which was delicious (and virtuous to boot).
With two glasses of very drinkable house red (at £7.50 a pop) to follow the champagne, my bill including the special Groupon price and not including (very sketchy) service was £40; so you get the picture that this open plan bare tabled area of a food hall is quite pricy without an offer involved.  This is the second Groupon deal they've run (a sure sign of insufficient footfall ) and their sister restaurant in East London has closed.  It would be a shame to see one of London's very few vegan restaurants close but they need top notch service to match their top notch prices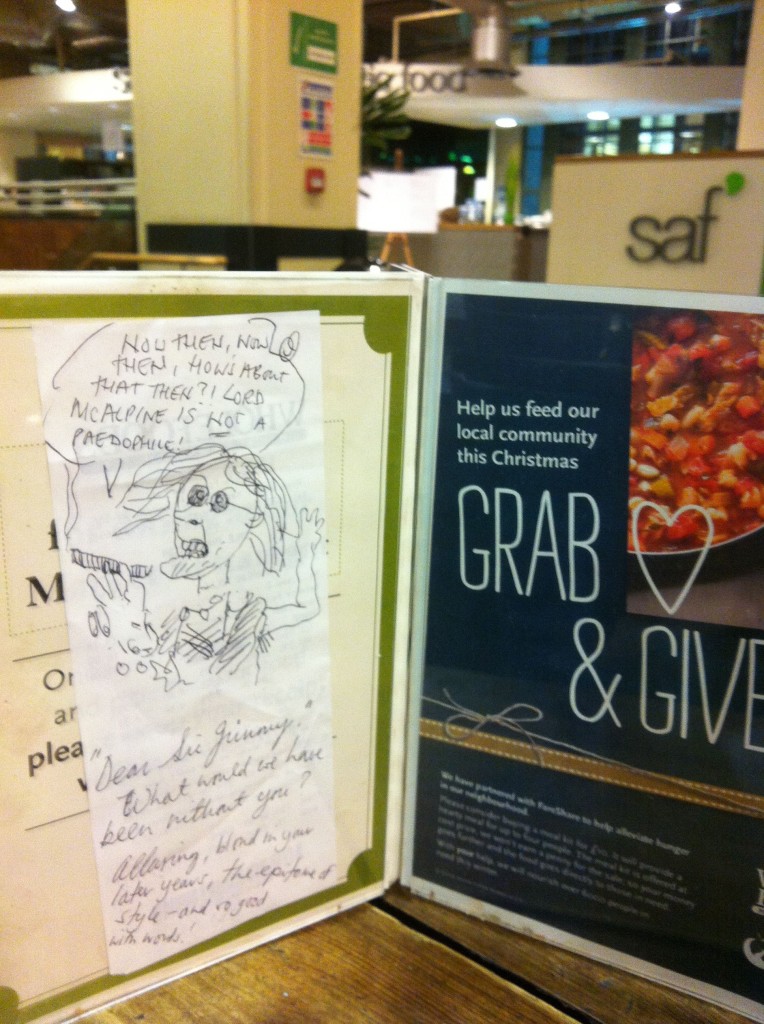 SAF RESTAURANT
The Barkers Building,1st Floor, Whole Foods Market, London W8 5SE
Mon-Sat12 – 10pm
Sun12 – 6pm